V-Series "Ranch" Diggers are designed to withstand the rugged use you expect from equipment used on the farm. It has been thoroughly tested and digs well in flat, as well as rough, hilly terrain. The Ranch Digger will dig post holes for you wherever you can drive your tractor. All units carry the same performance guarantee as all V-Series products. Available in 6" to 24" diameter augers. Weight 193 to 266 lbs.
Designed for Heavy Use in all soil Conditions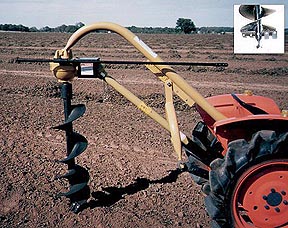 FEATURES:

Fish Tail Point - Hard surfaced for longer life
Segmented Blades
Removable and replaceable, for less down time. Hard surfacing (optional).
Heavy Duty Auger Bolt Shield
Heavy Duty Shielded Drive Shaft
Shear Pin - Above ground on PTO shaft.
Easy to Mount - Attaches easily to tractor.
Lift Bracket - Combination Category 1 & 2 lift pins.

Fast - Digs holes in toughest soils in just a few seconds.
Efficient - Low initial investment, minimum of upkeep.
Economical - Priced so low that even those with limited digging requirements cannot afford to be without it.
Heavy Duty Gear Box - Steel cut gears guaranteed for 5 years.
Output shaft 2" Gear Ratio 3 to 1.
MODEL-C POST HOLE DIGGER:
CATEGORY 1 & 2 TRACTOR:
SPECIFICATIONS: 45" digging depth. 3-point boom type. Augers available are 6"-9" or 12" with notch blades and screw type point.
**NOTE: Leveling Handle is no longer available for the Post Hole Diggers**
PRICES
RANCH POST HOLE DIGGERS INCLUDING AUGER
Part No.
Description
Required HP
Wt. (lbs.)
Retail Price (Add Freight)
634006
DIGGER-RANCH II 6" CAT 1 & 2

50-80HP

194
$1,320.00 USD
634009
DIGGER-RANCH II 9" CAT 1 & 2
201
$1,370.00 USD
634012
DIGGER-RANCH II 12" CAT 1 & 2
208
$1,415.00 USD
634018
DIGGER-RANCH II 18" CAT 1 & 2
242
$1,565.00 USD
634024
DIGGER-RANCH II 24" CAT 1 & 2
267
$1,730.00 USD
RANCH REPLACEMENT AUGERS
| | | | |
| --- | --- | --- | --- |
| Part No. | Description | Weight (lbs.) | Retail Price (Add Freight) |
| 630112 | AUGER RANCH & HYD. STD DUTY 12" X 48" | 50 | $271.00 USD |
| 630116 | AUGER RANCH & HYD. STD DUTY 6" X 48" | 33 | $215.00 USD |
| 630118 | AUGER RANCH & HYD. STD DUTY 18" X 48" | 74 | $373.00 USD |
| 630119 | AUGER RANCH & HYD. STD DUTY 9" X 48" | 42 | $255.00 USD |
| 630124 | AUGER RANCH & HYD. STD DUTY 24" X 48" | 99 | $496.00 USD |
AUGER PARTS & ACCESSORIES
| | | | |
| --- | --- | --- | --- |
| Part Number | Description | Wt. (lbs.) | Retail Price (Add Freight) |
| 600530 | POINT FISHTAIL ALL MODELS | 3 | $49.00 USD |
| 681025 | POINT SCREW TYPE ALL MODELS | 3 | $46.00 USD |
| 600216 | BLADES 6" SET DIG-EZY | 1 | $22.00 USD |
| 600219 | BLADES 9" SET DIG-EZY | 2 | $45.00 USD |
| 600212 | BLADE 12" SET DIG-EZY | 3 | $53.00 USD |
| 630222 | BLADE 1 3/8" HS ESTATE-HANDEE-RANCH | 1 | $12.00 USD |
| 630223 | BLADE 1 3/8" PLN ESTATE-HANDEE-RANCH | 1 | $8.00 USD |
| 680250 | BLADE SET 6" (2-HOLE) PLN | 2 | $16.00 USD |
| 680251 | BLADE SET 6" (2-HOLE) H.S. | 2 | $21.00 USD |
| 680252 | BLADE SET 9" NOTCHED PLN | 3 | $26.00 USD |
| 680253 | BLADE SET 9" NOTCHED H.S. | 3 | $39.00 USD |
| 680254 | BLADES 12" NOTCHED PLN | 3 | $30.00 USD |
| 680255 | BLADES 12" NOTCHED H.S. | 3 | $45.00 USD |
| 650627 | AUGER SLEEVE ADAPTERS 1¼" | 3 | $25.00 USD |
| 600682 | AUGER SLEEVE ADAPTERS 1 3/8" | 3 | $28.00 USD |
| 681064 | AUGER SLEEVE ADAPTERS 1½" | 3 | $31.00 USD |
| 612006 | DIGGER-ESTATE II 6" Cat 0 | 138 | $895.00 USD |
| 612009 | DIGGER-ESTATE II 9" Cat 0 | 144 | $925.00 USD |
| 612012 | DIGGER-ESTATE II 12" Cat 0 | 148 | $965.00 USD |
| 630207 | AUGER EXTENSION 7" | 6 | $83.00 USD |
| 630212 | AUGER EXTENSION 12" | 9 | $105.00 USD |
| 634200 | DOWN FORCE KIT (RANCH ONLY) | 54 | $441.00 USD |
RANCH HEAVY DUTY DIRT AUGER
| | | | |
| --- | --- | --- | --- |
| Part No. | Description | Weight (lbs.) | Retail Price (Add Freight) |
| P555050 | HEAVY DUTY DIRT AUGER 6" X 48" | 44 | $590.00 USD |
| P555051 | HEAVY DUTY DIRT AUGER 9" X 48" | 48 | $645.00 USD |
| P555052 | HEAVY DUTY DIRT AUGER 12" X 48" | 56 | $700.00 USD |
| P555054 | HEAVY DUTY DIRT AUGER 16" X 48" | 61 | $745.00 USD |
| P555055 | HEAVY DUTY DIRT AUGER 18" X 48" | 73 | $865.00 USD |
| P555056 | HEAVY DUTY DIRT AUGER 24" X 48" | 89 | $925.00 USD |