Our Connecticut Dealer
cell phone:
860-861-1022
2015 Jinma Diesel Tractors
25HP , 28HP OR 60HP with EPA APPROVED PERKINS ENGINES

These are the tractors we are promoting for the U.S. market because they have the quality and features expected from U.S. buyers.

MINIMUM OF 60 DAY WAITING LIST. TAKING ORDERS NOW! CONTACT US FOR MORE INFORMATION
Jinma 254 Tractor with Optional Front Loader

CLICK EACH PICTURE TO ENLARGE

(pictures are of a 284, but it looks the same as a 254)
**********************************************
25HP, 4WD, Ag tires; unassembled in crate
FRONT LOADERS: JM-ZL-20 (for 20-28HP tractors); unassembled in crate
OUT OF STOCK

FRONT LOADERS: JM-ZL-30 (for 35HP tractors); unassembled in crate OUT OF STOCK

BACKHOES 7ft; 3-PT. HITCH; unassembled in crate OUT OF STOCK
35HP, 4WD, Ag tires; unassembled in crate OUT OF STOCK
| | |
| --- | --- |
| | |
These Specs shown in U.S. Measurements
Inches, Pounds, Miles Per Hour, Revolutions Per Minute, Pound/Force
Model
204
284
354
Drive
4 WD
4 WD
4 WD
Overall Dimensions
L x W x H
104.9 x 48.6 x 51.1
117.7 x 50.7 x 56.6
123.8 x 57 x 80.7
Wheel Base
Front to Rear
59.4 / 61.4
63.9 / 64.6
72.1
Wheel Width Front
37.4
41.3
47.2
Wheel Width Rear
Adjustable
37.4/43.3
42/49.2
39.3/55
Ground Clearance
10.8
11.6
11.4
Tire Size Front
6 x 12
6 x 16
6 x 16
Tire Size Rear
8.3 x 24
9.5 x 24
11.2 x 24
Tractor Weight
Unloaded
2646
3009
3395
Forward Speeds
.40 - 15
.40 - 15
1.1 -14.8
Reverse Speeds
.54 - 6.4
.54 - 6.4
1.4 - 6.77
PTO Speeds
540/1000
540/1000
540/720
3 Point Hitch
Cat. 1
Cat. 1
Cat. 1
Hitch Lift Capacity
742
876
1113
Engine RPM
2200
2400
2400
Engine Type
3 Cylinder. Vertical
Water Cooled
4 Stroke Diesel
3 Cylinder. Vertical
Water Cooled
4 Stroke Diesel
4 Cylinder. Vertical
Water Cooled
4 Stroke Diesel
Clutch
Dual Stage
Dual Stage
Dual Stage
Manual Gearbox HI/LO
3 Gear
6 Forward Speeds
3 Gear
6 Forward Speeds
4 Gear
Hi/Lo
8 Forward Speeds
Power Steering
Standard
Yes
Yes
Yes
Brakes
Dry Shoe
Disk
Disk
TRACTORS INCLUDE DUAL-STAGE CLUTCH, HYDRAULIC POWERING, ROPS, CANOPY, 540/1000 PTO, AND COMPLETE GAUGES
PLEASE NOTE: ONLY EPA APPROVED TRACTORS CAN BE SOLD IN THE USA. NO OTHER TRACTORS ARE ALLOWED.
Attention buyers of crated tractors: It is very important that when you receive a crated Chinese-made tractor that you drain it of all fluids and replace the fluids with American made products.
NOTE: If these tractors are shipped with a dry-packed battery (NO electrolyte), it must be filled. Once filled with electrolyte, the battery must also be charged. Picture shows 20-28HP tractors with turf tires, but tractors comes with Ag tires.
Please Click on each picture to enlarge
JINMA TRACTOR IMPLEMENTS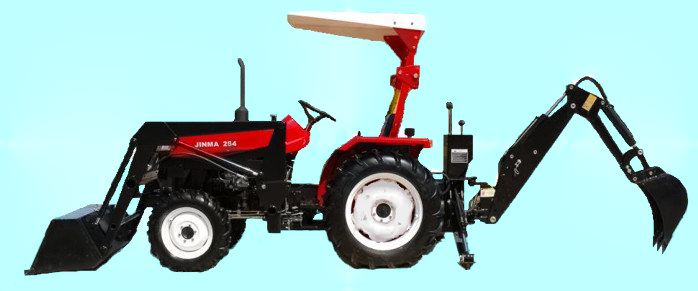 FRONT LOADERS: JM-ZL-20 (for 20-28HP tractors); unassembled in crate OUT OF STOCK
FRONT LOADERS: JM-ZL-30 (for 35HP tractors); unassembled in crate OUT OF STOCK
BACKHOES 7Ft; 3-PT. HITCH; unassembled in crate OUT OF STOCK
WOOD CHIPPERS; NOW 8"

only $1,295.

+ shipping. Minor assembly required
| | | |
| --- | --- | --- |
| SET OF TURF TIRES w/ rims $949 + shipping | SNOW BLOWERS OUT OF STOCK. Minor assembly required | BELLY MOWERS OUT OF STOCK. Minor assembly required |
Click Each to Enlarge