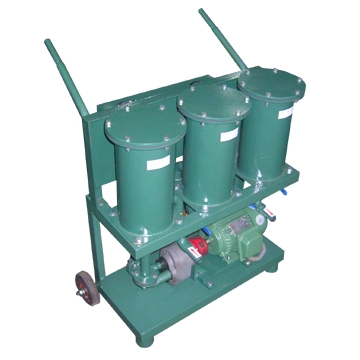 MODEL JL- 50
This purifier is equipped with three-stage purification, portable, easy to operate, very low price, no need of purification paper, no contamination to the ground. The product can effectively purify the tiny and fine mechanical impurity in oil, enabling it to be a prior choice of power industry, petroleum, chemical, metallurgy, mechanics and railway for oil filling, oil drawing and high precision impurity removal of mutual inductor, lathe, and oil breaker which do not use large quantity of oil.
Technical Parameters
Name
Unit
JL-32
JL-50
JL-80
JL-100
JL-150
JL-200
JL-300
Flow
L/min
1920
3000
4800
6000
9000
12000
18000
Cleanliness
NAS
<=6
Lift
5
8
8
10
12
15
15
Total Power
KW
0.55
0.75
1.1
1.1
2.2
3
4
Net Weight
Kg
125
130
135
145
150
180
200
*** the JL 50 is capable of up to 3000 liters per hour under the proper conditions.

Ⅳ Operating instructions
A. To place the machine on the level ground or trailer and check carefully the parts are tight or not. Especially notice if the motor connect with oil pump tightly
B. To connect the power line correctly. Start-up the oil pump and to check the rotating direction is right or not. otherwise change the power place.
C. To connect and tighten the oil inlet pipe. Note, Itís very important to tighten the oil inlet and outlet pipe. otherwise ,It leads to falling off of the pipe with the increase of the pressure.
D. To start the motor button after tightened the oil inlet pipe. the oil pump begin to run. then the oil become purified oil after three-stage filtration.
E. When one barrel of oil be finished and need to change other one. The whole exchange process should be finished quickly. If the time is limited, you can stop the machine till connect the oil inlet pipe, then restart

Ⅴ Maintenance and Troubleshooting
A. It mainly adopts mechanical filtration. and decrease the density of filter step by step to improve the precision of filtration. so, the primary filter is easy to be jammed, it leads to the oil inlet capacity lower than oil out.
Method to solve: Remove the cover of primary filter. Then take out the filter, The machine can be work after clean it with the clean oil of same model
B. If the lift is too high during the process of filling oil, it will lead to increase temperature of motor and noise of oil pump.
Method to solve:1.To work as setting lift.2 discontinuous work
C. The noise of oil pump increase
Method to solve: 1.To check the oil pump axis are connected.2 To check the screws are tight or not.
D. Prohibit lack of phase. To avoid the motor be burned.
CLICK HERE FOR AN EXCELLENT SUPPLIER FOR FITTINGS AND HOSES