A non-damaging installation for most windows with narrow or non-existing windowsills.


Requires no screws, nails, glue etc., to attach to your window frame
Secure enough that it easily holds the weight of flower pots, etc., when properly installed
Uses two specially designed non-invasive compression fixtures to hold the shelf securely in place while inflicting no damage to your existing window frame. 
Can be easily removed without damaging frame--great for apartments!
Makes a great cat perch too!

The window shelves are pre-drilled for the mounting fixtures and the corners are pre-rounded and sanded; ready for you to finish them with either paint, or stain with urethane.
Any size shelf

up to 36 ¼" long

. Please send us your accurate measurement of the space where the shelf is to be installed. We will quote larger sizes upon request. The shelf is UNFINISHED wood (Unfinished means non painted, stained or urethaned wood).
Each shelf is hand made by Americans here in the USA. No old-growth lumber is used. We use your choice of standard 1" x 6" (actual dimensions is ¾" thick and 5 ½" wide) pine lumber or straight cut rustic ledger board.

All you have to do is send us your accurate measurement of the space where the shelf is to be installed.

What to Measure:

The length where the shelf is to be installed

IMPORTANT!!!

YOUR WINDOW MUST HAVE AT LEAST A 1½ INCH FRAME FOR SHELF TO REST ON, OR IT WILL NOT PROPERLY INSTALL!
We will allow 1/8" overall clearance on the measurement you provide
IMPORTANT!! We cannot correct your measuring errors once the cut is made, so please be accurate with your measurement.

Here are some nice examples of how the shelf could be used. Please click each picture to enlarge.
WINDOW SHELF KIT




Regular kit unfinished with #2 pine board & rounded corners, mounting hardware, and instructions.

$44.95

NEW!!
"JUST THE BRACKETS"

You supply wood for the shelf, we supply the support hardware! This includes 2 compression anchors, 2 compression screws, 8 wood screws, and instructions.

$22.95
PRICE INCLUDES SHIPPING AND HANDLING FOR CONTINENTAL USA ONLY
OUTSIDE OF USA, PLEASE CONTACT US FOR SHIPPING QUOTE
---
Our pumps are primarily designed to efficiently supply potable water to off-grid remote site dwellings and for other low volume intermittent duty applications. It consists of the following components:

1. (1) 85 Watt solar module.
2. (1) 12 volt Submersible Solar Water Pump, or 24 volt model - please specify.
3. (1) Model PPT 12-24-7V Linear Current Booster not for use with battery.
| | | |
| --- | --- | --- |
| | Solar Module | |
The New Version 2 Submersible DC Well Pump is a complete ready-to-install DC powered submersible well pump. It features a super-watertight corrosion and rust proof PVC case specifically designed for and fitted to a Flojet motor and Flojet duplex diaphragm pump head.
This combination results in a high quality, energy efficient, and exceptionally cost-effective submersible well pump unit with a wide range of applications.

SPECIFICATIONS
CASE: The V2 corrosion and rustproof PVC case fits 4" or larger wells.

MAIN CASE SEAL: Hydraulic compression fit PVC junction reinforced with marine adhesive sealant.

WIRE LEADS: 18" color-coded 10 AWG vinyl insulated stranded copper with outer PVC cable cover.
Each pump includes a set of sealant filled crimp connectors and heat shrink tubes for connecting pump leads to drop wire.

WIRE LEAD SEALS: Integrally installed in embedded waterproof sealant filled plug.

INTAKE FILTER: Inlet port with 20 mesh stainless steel filter.

DISCHARGE FITTING: 3/4" Threaded X 1/2" Barbed Adapter fits 1/2" flexible pipe or tube.

FLOJET pumps feature industrial grade head/motor units with the following specifications:

MOTOR: Low current draw permanent magnet, ball bearing drive, 2,000 hour brush life.

PUMP HEAD: Positive displacement, duplex diaphragm design tolerates passage of small foreign particles and can be run dry without damage.

PERFORMANCE: Typically 1 to 2 GPM depending on lift height (head) and operating voltage. Maximum head is rated at 230 feet. All models, the 12 Volt DC, the 24 Volt DC, and the 115 Volt AC/DC, have the same performance characteristics and GPM delivery rates.

POWER DRAW: Typically 50 watts - 100 watts depending on depth of lift.
This is a Lift/Amps/Flow Chart for the Flojet pump model used in the 24 Volt Submersible Pumps. For 12 Volt Pumps, the lift and GPM Flow is the same but the amperage rating is double.
| | | |
| --- | --- | --- |
| LIFT IN FEET | AMPS | GPM |
| 23 | 2.06 | 1.83 |
| 46 | 2.54 | 1.77 |
| 69 | 2.90 | 1.65 |
| 93 | 3.12 | 1.57 |
| 116 | 3.35 | 1.47 |
| 139 | 3.58 | 1.38 |
| 162 | 3.79 | 1.32 |
| 185 | 4.00 | 1.26 |
| 208 | 4.20 | 1.20 |
| 231 | 4.40 | 1.15 |
GENERAL GUIDE TO INSTALLATION & OPERATION

PREFACE: This document is intended as a general guide to understanding the installation and operation of the Submersible/Flojet Pump Unit. It does not contain complete information regarding safe and proper plumbing and electrical practice as well as information regarding the differing conditions of specific installations. If in doubt, proceed with caution and/or seek professional assistance.
SYSTEMS - Typically, a storage tank, a pressure tank, or a combination of both (storage tank to booster pump to pressure tank) is part of a submersible pump water system.
OTHER FACTORS include power source voltage and regulation, distance between power source and pump, and height between pumps and tank (head).
Available power source voltage determines pump voltage.
Distance between pump and power will determine gauge of electrical wire relative to pump amperage. (See Chart.)
For longevity of small submersibles, use either a storage tank or combination system.
EXAMPLE:
Well depth..............................................60'
Distance pump to power..........................65'
Static water level..................30' below grade
Level of pump.......................40' below grade
Pump amps-volts.....................3.5 @ 24VDC
Wire size.......................................12 gauge
Height pump to tank.................................55'
Tank type................storage w/float switch
INSTALLATION PROCEDURE:
1. Thoroughly read all literature included with the Pump.
2. Lie out delivery pipe, electrical wires, and pump near wellhead.
3. Connect one end of pipe to pump (use s.s. hose clamp).
4. Install appropriate fitting at other end of pipe.
5. Solder electrical wires to pump leads, or connect wires with non-insulated crimp connectors or other crimp connect device. Embed connection in marine sealant (3M 4200 or 5200 Fastcure or equiv.) and cover w/heat shrink tubes or other standard submersible pump wire splice seal device. Allow ample time for sealant to set prior to immersion. WARNING: Take Care! If this connection leaks your pump will fail.
6. Bundle pipe and wire at 5' +/- intervals with cable ties and be sure that spliced wires at pump do not protrude beyond diameter of case.
7. Lower pump into well to a point below static water level (1' to Maximum 20'). Note: A safety line is not required.
8. Connect pipe from tank to pipe from well.
9. Connect electric wires from tank switch to wires from pump. (Protect circuit w/10 - 12-amp fuse.)
10.Review all procedures in thorough detail to determine if entire system and all plumbing and electrical connections have been installed and secured in complete accordance with professional standards.
CAUTION: Only proceed with plumbing and/or electrical connections if qualified. Otherwise, seek advise of professional plumber/electrician.
WARNING: Major damage to pump motor can result if pump is operated when water in delivery pipe is frozen or otherwise obstructed; the pumps are not equipped with bypass valves.
OPERATION - To prevent pump damage or excessive wear, Pressure Tank Systems must be fitted with a pressure switch that switches pump off before total system pressure exceeds maximum rated pump pressure. Total system pressure is equal to the poss. of head (each 2.31of head = 1 poss.) plus poss. Of pressure switch shut-off setting. Total system pressure should not exceed maximum rated pump pressure (up to 100 poss. for standard Flojet pumps).
To prevent overflow and excessive pump wear, a Storage Tank System (best system for small subs) must be fitted with a float or water level sensor switch. Being that a storage tank is not under pressure, total system pressure is simply equal to poss.
Pumps operated direct from photovoltaic modules should be protected from excessively high voltage inputs via a manual or automatic disconnect switch at power source, and/or, an appropriately sized and compatible linear current booster (LCB) device.
For proper operation of pump, electrical circuit must be suitably fused, grounded, and equipped with main disconnect switch at power source.
APPROPRIATE USE: Our Pumps are primarily designed to efficiently supply potable water to off-grid remote site dwellings and for other low volume intermittent duty applications. Expected years of maintenance free service will be proportionately shortened if high volume continuous duty applications exceed the designed use.
TROUBLE PREVENTION NOTE - Most pump failures are caused by improper installation and/or operation. Extra careful attention should be given to electrical wire connection and waterproofing, submergence depth, total system pressure, motor overload conditions, and under or over voltage inputs.
(NOTE-The text above is the formal version of the installation procedure, with all the superfluous cautions, warnings, details, etc. In actual practice, the procedure is much simpler than this inflated document suggests. But please do read it; there are a few important points included that could spell failure if ignored.)
IMPORTANT! We need to know the depth of your well, and the depth to the water. No estimates please. It is important to the proper installation and operation of the pump. There is a 230-foot limit and a maximum operating pressure of 100 PSI only allowed.
Our 30 DAY LIMITED WARRANTY: If the Flojet pump fails within the warranty period due to a defect in the materials and/or workmanship of our Case, we will promptly replace the complete Submersible Pump unit after examining the unit. The Customer is responsible for all shipping and handling charges. We do not warranty Flojet brand pumps. (Flojet Corporation 1-800-2FLOJET warrants Flojet pumps, but they may not warranty pump motors that have failed due to direct contact with water). We also do not warranty the workmanship of whoever installs your pump into your water source. Any replacement of a our Submersible Pump unit is conditional upon (1) a complete description of the installation and the postpaid return of the complete original unit with attached wire connection devices included, (2) our examination of the returned unit, (3) our determination that failure was a result of our materials and/or workmanship being defective and not due to a defective Flojet pump, a defective installation of the pump into your water source, or any application of the pump which exceeded the use for which it was designed (see Our User Guide), and (4) a return authorization by email or telephone prior to the return. Note: Any questions or concerns regarding our Submersible Pump, either under warranty or after warranty expiration, can be conveyed to chinadepot@aol.com for consultation.

We currently have solar electric modules at $3.90 per Watt delivered to your city.
Factory direct shipping anywhere in the continental USA.

We have developed some economy solar systems that use 20-watt solar modules. All system components are made in North America.
Economy solar water pumping system.
20-watt solar module
12-volt battery charging controller
12-volt low voltage pump motor protector.
Note: 12 Volt Battery should be purchased locally to save shipping charges. Solar deep draw batteries should be used.
This system can only provide approximately 100 to 150 gallons of well water a day. If more water is needed you will need our 64-watt solar charging module.
$575.00 + shipping. Please write to us for more information.

MAKE CHECKS / M.O. PAYABLE TO: A to Z Global Marketing, Inc.

CHECK PAYMENTS ARE HELD 10 DAYS TO CLEAR.

CREDIT CARD ORDERS CAN BE TAKEN OVER THE TELEPHONE.

DIAL 401-725-8141 MON.-FRI. 8AM-5PM EASTERN TIME.

VISA • MASTERCARD • AMERICAN EXPRESS • DISCOVER

ALL SALES ARE FINAL. WE WILL REPLACE ANY DEFECTIVE MERCHANDISE.




---

12Volt or 24Volt Solar Pump alone is $289.00 delivered USA and Canada only.

Economy solar power station for LED lighting and other low power 12-volt applications. (Lights not included)
20-watt solar charging module.
12-volt battery charging regulator.
Note: 12-Volt battery should be purchased locally to save shipping costs.
Solar deep draw batteries should be used.
Any 12-volt motor should be used with a low voltage protector to
prevent motor burn out.
These are extreme economy systems with limited daily output.
GREAT FOR CHARGING ELECTRIC SCOOTER BATTERIES!
This system is best when used to charge a spare scooter battery
$225.00 + shipping
Ask about our other systems and components.

All system components are made in North America.

15 AMP CHARGE CONTROLLER
Application FOR BATTERY SYSTEMS ONLY
This charge controller is used to charge a battery from a PV power source. This charge controller can be ordered with a special float voltage to charge small batteries used for Video or digital cameras or small security camera systems. The exceptional small size of this unit makes it extremely portable and able to fit almost anywhere in the user equipment. This unit may also be adjusted to charge a lower voltage battery form a higher voltage power source.
Model: PT 12/24-15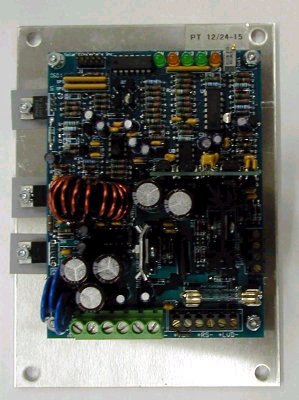 Features
Single unit 12/24 V operation
Will even charge a 12 V battery from a 24 V array or odd voltage array.
Real world 15 - 30 % more current than conventional technology into discharged batteries
Current Limited Output - can operate from multiple input sources
Means faster battery charging or higher system power at similar cost
Maximizes Battery Life

Dual Float Charge Technique Recommended by battery manufacturers for maximum capacity and lifetime

Transient Protection

Low Noise
Over-voltage Protection

Regulates output at float level even without batteries connected (or bad batteries). Will substantially recover lost battery if recoverable.

Electrical Specifications

| | | |
| --- | --- | --- |
| Nominal Voltage (V) | 12 | 24 |
| Nominal PV Array (V) | 12 | 24 |
| Max Array Voltage (V) | 50 | 50 |
| Max Output (A) | 15 | 15 |
| Self Consumption (A) | | |
| Charging | 0.04 | 0.04 |
| Quiescent | 0.02 | 0.02 |
| Set point Tolerance (+/-) | 5% | 5% |
| Float Setting **(V) | 14.1 | 27.2 |
| Overcharge Setting (V) | 14.5 | 29.0 |
| Temp. Comp. mv/Deg C | -4 | -4 |
| Efficiency | 96% | 96% |

** Special units have a suffix of B XX after the part number. The float value of the charge controller is XX. For example PT 12/24 - 5 B8.4 will charge a li-ion battery to 8.4 V from a nominal 12 V solar panel. Note that the charge current increase by the ratio of approx. 15/8.4. Thus a 1 amp 12 V nominal solar panel will charge the li-ion battery at approx. 1.78 amps.

Temperature Compensation:

Uses a National LM335Z temperature sensor available from Solar Converters Inc. as Model TC-2.

LVD Control:

Short these terminals together with a relay contact, (rated 32 V @ .1 A - be careful of dry contacts) or a similarly rated transistor and the LVD will open; forming an effective load disconnect.

Used for Battery Backed Solar Water pumping as a Float Switch Control.

Mechanical Specifications

Weight:

Size:

Operating Temperature:

-40 to 60° C
We suggest the unit not be placed in direct sunlight

Humidity:

0 - 90 % non-condensing
0 - 100 % when mounted in a Nema enclosure

Connections

Power:

Battery, PV and Load
#10 - #22 AWG Eurostyle Terminal Strip

Signal:

Temperature Compensation, LVD Control, and 12/24 operation
Eurostyle Terminal Strip: #16 - #26 AWG

Setup:

Jumper selectable for 12/24 battery and/or panel operation.

Note: OTHER AMPERAGES AVAILABLE. In the interest of continuous product improvement, specifications subject to change without notice.

$179.95 + shipping

MAKE CHECKS / M.O. PAYABLE TO: A to Z Global Marketing, Inc.

CHECK PAYMENTS ARE HELD 10 DAYS TO CLEAR.

CREDIT CARD ORDERS CAN BE TAKEN OVER THE TELEPHONE.

DIAL 401-725-8141 MON.-FRI. 8AM-5PM EASTERN TIME.

VISA • MASTERCARD • AMERICAN EXPRESS • DISCOVER

ALL SALES ARE FINAL. WE WILL REPLACE ANY DEFECTIVE MERCHANDISE.
ANSI/IEEE 62.41
In the power industry, transients from lightning strikes form the most powerful transient/surge electrical equipment has to deal with. The Institute of Electrical Engineers (IEEE) along with the American National Standards Institute (ANSI) developed a standard, dubbed 62.41 as a reasonable simulation for test of a lightning strike on electrical equipment.
This test, in essence, is to subject the device under test with 4,000 volts 8/20 uS combination surge with a 10,000 amp capacity directly on its terminal: both differential mode (across the terminals), and also common mode (either terminal to ground). All the while, the unit must be on and operating and suffer no degradation of performance.
The Power Tracker™ 30 amp unit passed this test as well as the 6,000 V common mode (either terminal to ground - usual lightning strike) requirement.
The Power Tracker™ user should feel secure some passing transient will not affect their system. If it passes the "direct" lightning strike test, local storms which have been known to fry some regulators won't affect it.
FCC
FCC Section 15J Part B (simplified)
The FCC is a U.S. federal commission that regulates the radio spectrum in the United States. Each region of the world has their own equivalent governing body.
They have published a number of requirements that any and all equipment must pass in order to be sold and manufactured in the United States. This is a "global" specification on all equipment that produces, either intentionally or unintentionally, RF (radio frequency) interference.
Testing of a product not only takes the form of measuring the radiated RF field strength around the unit, but also the RF conducted through each wire connected to the unit. All these tests view the RF spectrum from 10 KHz through hundreds of megahertz. So the testing is quite thorough.
The governing bodies have the authority to seize and impound equipment and property as well as impose fines if any product sold or manufactured in the United States does not conform to their specifications. This requirement is not to be taken lightly.
This is a time bomb in the solar field. The previous relay based controller had no RF, hence FCC impact. As PWM controllers and microcomputers are fairly new in this field, the issues of FCC compliance are raised.
The switching action of all PWMs, not to mention the microcomputers that control them, produce RF interference. Unlike safety UL type issues where there is little or no existing relevant specifications or guidelines, FCC certification is an enforceable existing real requirement as yet un-addressed in the solar power field.
This issue for PV systems is also made worse by the long lines and large PV panels that form a large radiating antenna. Not only does the potential exist for RF interference, but the PV wiring and array make an excellent antenna to broadcast it to the world.
The Power Tracker™ is certified to FCC Section 15J part B, the tightest and hardest to meet specification of FCC. Also it passes the specification by 20 db (a factor of 100). This effectively means unrestricted use of it in North America and effectively the world.
---
The Steady Cam Speed Shooter

Capture extremely smooth video shots of moving subjects on the GO!
We are building Steady Cam Speed Shooter video camera mounts in the USA for camcorders, cameras, etc.
You can eliminate that shaky home video look with our hand held camera mount. We have the demo videos to prove it.
Now you can make professional looking sports or wildlife action videos for those hard-to-get shots when you don't have time to be fumbling with a tripod. 2 styles available: The ¼ - 20 threaded stud for most cameras, or you may select the 3/8 – 16 thread for the optional Manfrotto model 3229 tilting tripod head.

Shown with optional tripod head. Click to enlarge.

Click each to play


These videos were shot using our Steady Cam Speed Shooter with a very light Fuji model 602 zoom digital combination still and video camera that only weighs 1.5 pounds. It is very hard to get smooth video with these tiny units without a tripod. Dealers inquiries are invited
The Speed Shooter is great for videotaping weddings, sports games, wildlife, or any number of activities where speed and mobility are needed and there is not time to set up cumbersome tripods.

A to Z Global Marketing of Lincoln, Rhode Island is manufacturing this all aluminum and steel monopod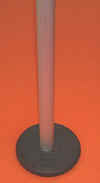 type hand held video camera holding fixture at its own assembly shop in the USA.
The quality of this newly engineered unit is so high that it comes with a
Lifetime parts exchange normal wear and tear replacement warranty.
The standard unit comes with a choice of either the ¼ - 20 threaded stud for most cameras, or you may select the 3/8 – 16 thread for the optional Manfrotto 3229 tilting tripod head.
19 inches - Length without tripod head
21 inches - Length with most optional tripod heads
1 inch – Diameter of aluminum mast
5 inches - Width of cast iron base weight
2.5 pounds - Weight of the removable iron base weight
3.5 pounds – Total weight
1 pound – Weight of mast and fittings only.


Showing base weight. Click to enlarge.


LIFETIME PARTS EXCHANGE AND SERVICE WARRANTY FOR NORMAL WEAR AND TEAR

ALL PRICES INCLUDE SHIPPING AND HANDLING. CONTINENTAL USA ONLY
MAKE CHECKS / M.O. PAYABLE TO: A to Z Global Marketing, Inc.
CHECK PAYMENTS ARE HELD 10 DAYS TO CLEAR.
CREDIT CARD ORDERS CAN BE TAKEN OVER THE TELEPHONE.
DIAL 401-725-8141 MON.-FRI. 8AM-5PM EASTERN TIME.
VISA • MASTERCARD • AMERICAN EXPRESS • DISCOVER
ALL SALES ARE FINAL. WE WILL REPLACE ANY DEFECTIVE MERCHANDISE.
THESE PRICES INCLUDE SHIPPING TO ANYWHERE IN THE CONTINENTAL USA ONLY.
Alaska, Hawaii, Puerto Rico, etc. please e-mail us first for shipping quote.
Copyright © 2011-2016 USA Depot Store All Rights Reserved. Battery Chem is a trademark of A to Z Global Marketing Inc.